Landry's Guns
225-694-3376
7374 Louisiana Hwy 3050
Morganza, LA  70759
Landry's Guns email
NFA Questions email
Updated 11-22-2013
Lots of updates and lots of items on order.
"Breaking the silence, without a sound."
We can order anything you want, and handle any transfer.
Check out the videos from the shoot!

https://www.facebook.com/LandrysGuns
Yes, you can legally own a
silencer, machine gun
AOW, Short barreled rifle
and even a short barreled shotgun
in Louisiana.
Read how to here.
<![if !vml]>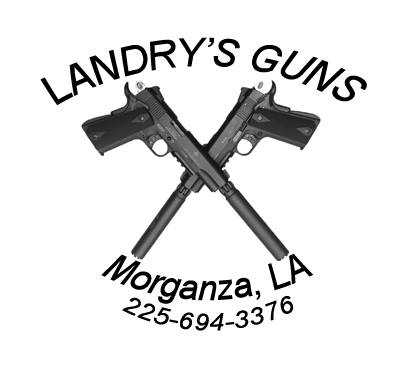 <![endif]>
<![if !vml]>
<![endif]>
$695

This new Safety Harbor Firearms KEG410 shotgun fires the .410 gauge shell.  We also have the identical shotgun in 20 gauge, the KEG20.   It has a 7.75" barrel with an overall black finish. This pump action shotgun holds 2 rounds, plus 1 in the chamber. This shotgun is housed on a Mossberg 500 frame and has a forearm vertical folding post. This shotgun comes with a box, manual, and lock. This shotgun is considered an AOW with the ATF. The ATF transfer stamp is $5 and included in the price. All NFA rules apply.
<![if !supportLineBreakNewLine]>
<![endif]>